You can easily link your Stalmanager calendar with your favorite calendar service such as Google calendar, Apple calendar and Outlook calendar. This is useful for combining calendars so you have all activities in a central place.
To link the calendar of your stable, navigate to "subscribe" when inside the calendar.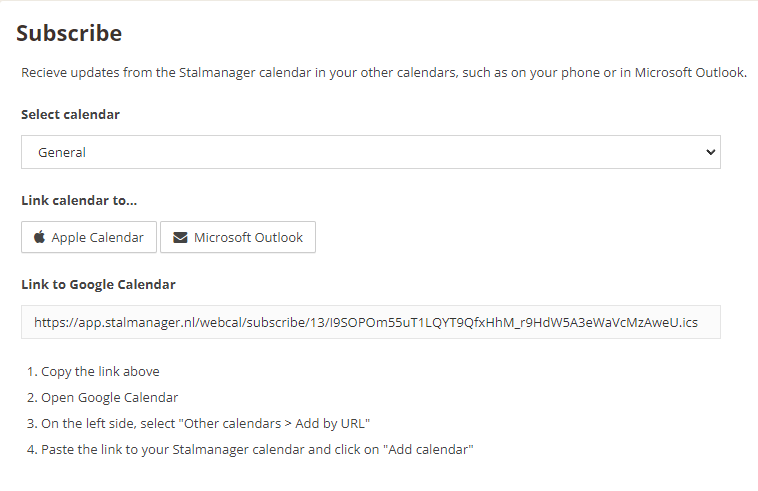 Apple/Outlook
To link the calendar of your stable with the Apple or Outlook calendar, press the button of the calendar service you would like to link with. The button will open the calendar service using the application.
The application will ask for a confirmation when linking the calendar, once the confirmation has been made the calendar will be linked with the calendar service.
Important: The buttons for linking the calendar with Apple/Outlook will open the application. To link the calendar with your calendar service it's very important to have the application of the calendar service on the device you use when linking the calendar.


Google calendar
To link the calendar of your stable with Google calendar you have to use a computer.
Copy the link under "Link to Google Calendar" and go to your Google calendar.
In the Google calendar you can see the + button on the left side of the screen. 
Use the "From URL" button.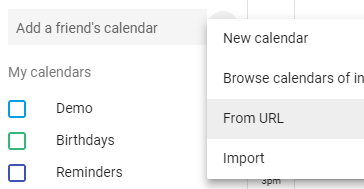 Now you are on the final page, paste the link in the field and use the "Add calendar" button to link the calendar.

Important: The Google calendar doesn't update constantly, it might take some time for new Stalmanager calendar items to appear on your Google calendar. This is due to some technical limitations from Google, we unfortunately can't change this.